IR Transmission main unit-YS-504M
The YS-504M Digital Transmitter is the central modulator unit in the digital infrared system. It accepts audio from the YS-504M or other compatible audio sources. The YS-504M modulates the incoming audio signals onto carrier waves, which are sent directly to one or more YS-504X Digital Infrared Radiators. The output from the radiator is then passed on to each YSN504R delegate receiver.

Features:
High security, prevent external interference.

Suitable for different conference hall

Automatic level control function (ALC).

No disturb under a daylight lamp

Easy to operate and save in project cost

With the most advanced technology

Elegant configuration in accordance to ergonomics

Input channel direct function

Has 4CH interpreter's voice for record

PB test and display function

Installed in a 19-inch frame
Technical Specifications:
Modulation mode: FM
Frequency synthesis: digital PLL
Frequency band: 1.7 - 4.0MHz
Frequency response: 100Hz-14kHz
Frequency stability: 10ppm
Pre-emphasis: 75 µSec.
Distortion at 1 kHz: <0.5%
Channel separation: >70dB
RF output power level: 700mV
RF output impedance: 50 ohms
Input impedance: 18k ohms
Max. input power level: 2V
AGC range: 30dB
S/N ratio: >75dB
Power consumption: 40W
Operating voltage: 230V/50Hz
IR Radiator-YS-504X
The radiators transmit at a much higher frequency (2 to 8 MHz) to completely eliminate any interference from hall lighting. Different Radiators are available to suit venues of various sizes.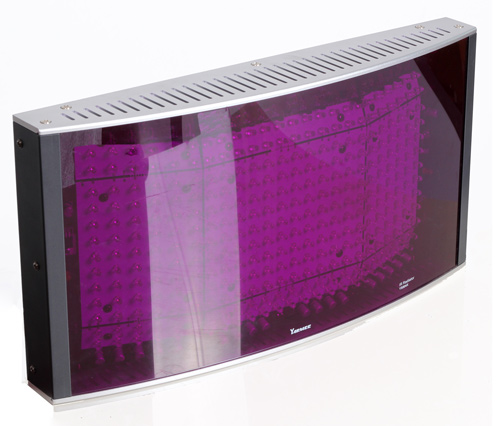 Features:
Auto switched on/off by carrier signals from transmitter unit

Auto gain control to ensure diodes with max. efficiency

Convection cooled for noiseless, reliable operation

Mounted on ceiling, wall, floor stand or optional tripod

Easily daisy-chained together to expand coverage

Half radiator angle: ±22°
Technical Specifications:
Frequency band: 1.7 - 4.0 MHz
Max. IR output power: 25W
Max. coverage range: 30m
Output level control: Low/High (50%/100%)
Angle of half intensity: ±22°
RF output impedance: 50 ohms
RF input voltage: 100-2000mV
Power consumption: 55W / Stand-by 8W
Power Supply: 230V/50Hz
Interpreter Console Unit-YS504I
This system fits seamlessly in the chain which starts with congress systems and continues through interpreters. Under it taking care of language distribution, you know that interpretations will always arrive in perfect condition.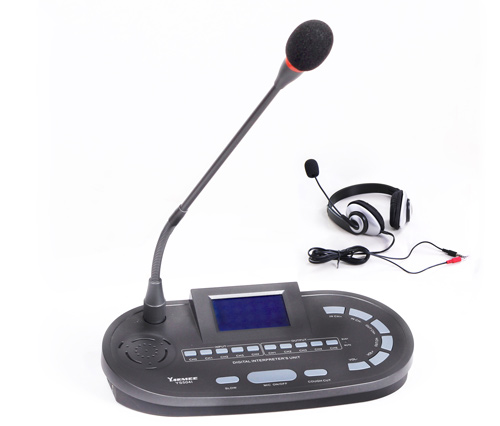 Features:
Work with headset earphone

8CH simultaneous interpretation.

Easy to operate, just with a single press.

IR Transmit main unit could connect 8 interpreter's units.

Voice adjustable and with prevention on feedback

Delegates speak too fast; give a request for slow the speed.

Automatic numbering on system units

Prevention on interpreter's cough

One interpreter's unit can be used for two interpreters in turn.

Comfortable stereo head- phones or lightweight ear hangers which are even more unobtrusive.



IR Receiver-YSN504R
The ergonomically designed receivers fit easily into a shirt or jacket pocket. 4 different channels can be received. Easy channel selection and an ingenious coverage checking function make life easy for users and installers alike, which comes in an attractive and stylish design, easily into the hand or a shirt pocket. The comfortable lightweight DH 6021 stereo headphone is highly suited to the receiver.
Features:
Pocket size wireless handheld unit

Accommodates up to 4 different languages

Channel selector and headphone connector

Power on/off switch and volume level control

Powered by rechargeable batteries

Aluminum carrying cases provided for receivers

Volume, channel and signal level display on LCD
Technical Specifications:
Modulation mode: FM
Frequency synthesis: digital PLL
Carrier frequencies: 1.7 - 4.0MHz
Frequency response: 100Hz-14kHz
Pre-emphasis: 75 µSec.
Distortion at 1 kHz: <1%
Channel separation: >55dBA
Frequency stability: 10ppm
Operating voltage: 3.1V-5V
Power consumption: 60m
Charger case –YS-504C
This cabinet shall be used to recharge receiver units. The cabinet shall be stylishly designed and shall be intended for fixed installations. It shall be suitable for wall mounting and desktop use. Each charging position shall ensure high charging performance with optimum battery lifetime.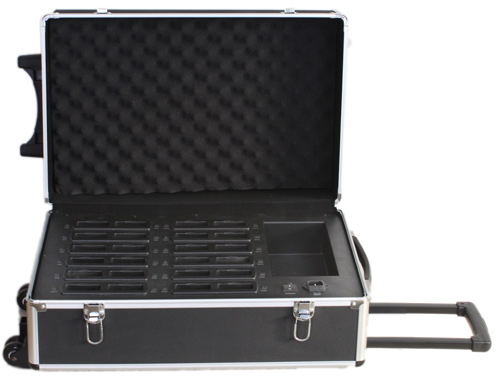 Features:
Used to recharge the IR receivers
Power supply: 230V/50Hz
Storage 24 units Receiver