YC822M Central control unit
YC822 is a multifunctional conference central control unit, which centralized processing and control discussion, clear sound, high-fidelity, build in mute function, can connect 60 units, through extend power can connect 120 units. It supports multiple meeting modes.

Features
Adopting digital audio, hi-fidelity , Build in mute function and easily to setting.

Capable of telephones connection for remote teleconference.

LCD display for status information and configuration.

The CU has Three trunk outputs for the loop-through connection of contribution units.The CU can connect 60 units and possible to connect 30 contribution units to each

trunk output.

Up to 120 Contribution units by add Central control for extension connection of conference units.

Four operational microphone modes:

1. Limited mode: allows selection microphones, which can be simultaneously active.(1/3/6)

2.FIFO mode: delegates can override each other simply by activating their microphones. (1/3/6)

3. Chairman only mode: only chairman can speak

4. Free mode: The entire unit can be activated.

Number of open microphones between 1 or 3 or 6 (Limit and FIFO mode) and Infinity (Free mode).



Specification

| | |
| --- | --- |
| NAME | YC822M Main Machine |
| input/output | 8P-DIN×4 |
| input | MIC 6.3mm×1 RCA×2 |
| output | XLRM×1(Balance)RCA×1 |
| power supply | AC220V-50HZ |
| current drain | 120W(MAX) |
| frequency response | 100-14KHZ |
| dimension | 480×325×85mm |
| weight | 9.5kg |
| colors | Dark Gray |


Connection Diagram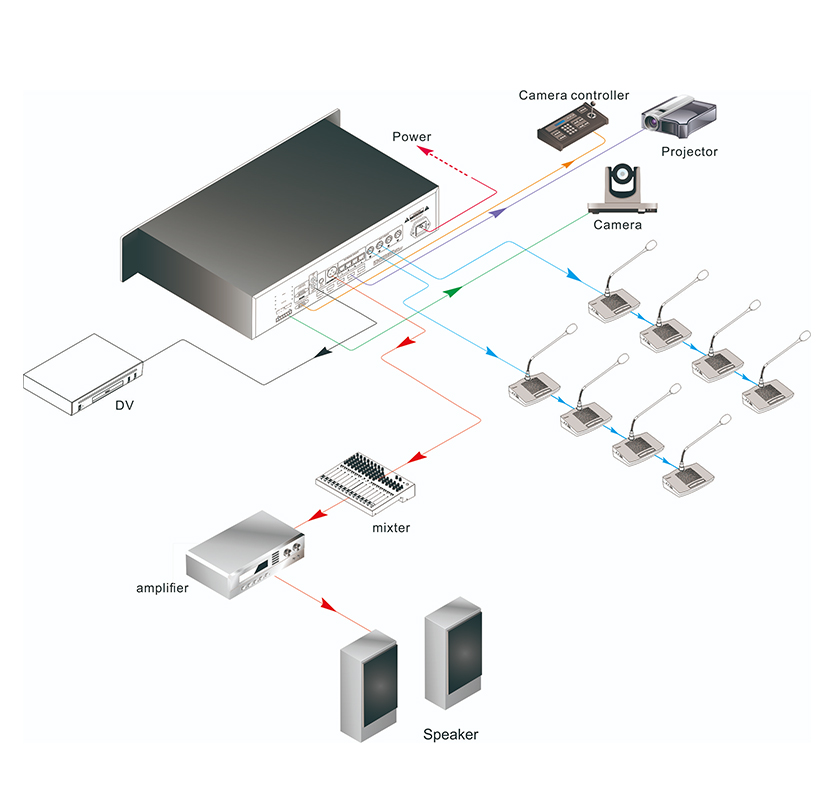 YC822C Chairman microphone/YC822D delegate microphone

YC822 series is a new desktop discussion unit which includes a chairman unit (YC822C)and delegate unit (YC822D). Chairman unit has priority of the whole meeting and can terminate or discontinue other delegate units who is speaking.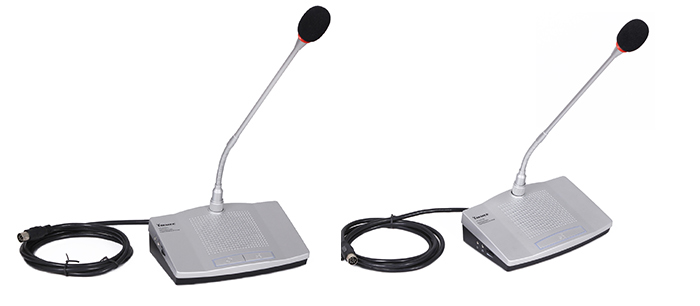 Features
Chairman priority button, When pressed the chairman priority button causes all currently active delegate microphones to be permanently muted.

Built-in loudspeaker and pluggable microphone

The built-in loudspeaker, automatically muted when microphone is on or headphones are connected.

Rotary volume control for adjusting built-in loudspeaker volume or headphone volume(when headphone connect)

Light ring indicator on microphone stem, lights up red when microphone is on.

Microphone button with a red or green illuminated ring LED. Green indicates microphone is active, red indicates request-to-speak not accepted.
Specification
Power Supply: DC24V supplied by the central unit
Power Consumption:40 mA
Interface Type: BP-DIN
Earphone Output:3.5mm stereo jack
Installation:Desktop
Earphone impedance: 8-32 omh
Connecton Mode: Daisy Chain
Crosstalk Attenuation: >80 dB
Speaker Power: 2W
Miarophone Type: Condenser
Polar pattern: Ultra Cardioid
Frequency response: 100hz-14KHz
Signal-to-Naise Ratio: >80 dB
Sensitivity:47 dBV/Pa
Length of Micrphone:420mm
Color: Silver/Gray Black
Dimensions: (W)200x(H)56x(D)130 mm
Weight:1.1KG

YARMEE_YC822_Spec-EN-with recording-04-2014.pdf
Connection Diagram